Impact Report 2019/20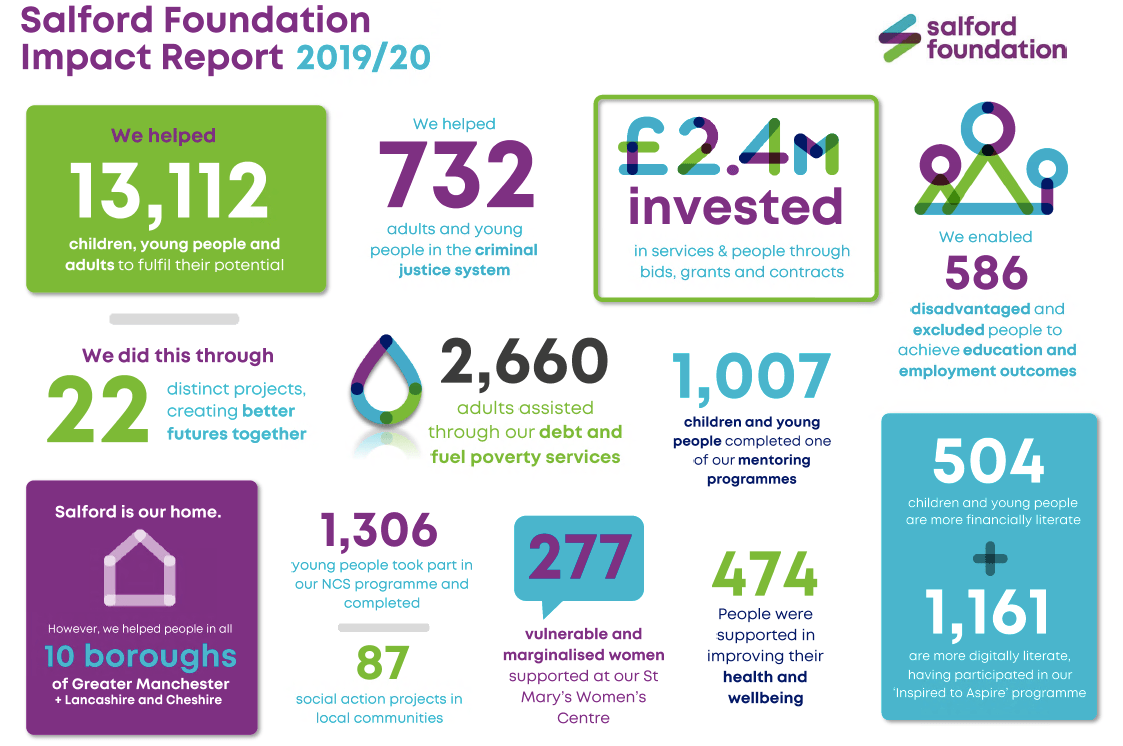 Get Involved
Whether you're in need of help, or want to help those in need, Salford Foundation is the right place to come.
I need some support from Salford Foundation
I'm looking for jobs or volunteer opportunities
I'm a business wanting to support people
Helping adults & young people reach their potential
Whatever challenges or opportunities you are facing. Whatever stage of life you are at. We provide a range of projects that will help you to create a better future. Whether it's you that needs support, someone you love or someone you're supporting – we're here to help. We will welcome you without judgement. We'll be passionate and professional. We will work with you to fulfil your potential.
Find out more
Helping businesses engage with local people and the community
Are you looking to put something back into the community? Would you like your staff to develop new skills whilst helping other people to reach their potential? Are you looking to develop your approach to corporate social responsibility or social value? We've been connecting businesses with local people and communities in Salford and across Greater Manchester for 30 years.
Find out more
Our current work, broken down
• Helping people experiencing financial hardship, debt or fuel poverty.
• Supporting vulnerable women and victims of domestic abuse.
• Running peer support groups to combat loneliness and social isolation.
• Mentoring young people at risk of dropping out of school, getting involved in serious violence, or being criminally exploited.
• Providing job coaching and employability skills to young people and adults.
• Mentoring adults that are in or have just left prison.

Support us
What people are saying
"I enjoyed my experience on NCS because I was challenged by myself and others around me. I had a lot of inspiration to carry on and do better. I mixed with people from different backgrounds."
"Without Salford Foundation's support I'd be homeless. You've changed my life and I would never be able to continue my studies without your help."
"Coming here has changed my life around for the better. It has helped me stop offending by looking at why I did it in the first place and helping get things sorted out."
"I am now much more confident in my schoolwork and I listen more and my organisational skills are getting better each day."
"You would not believe the difference coming to Salford Foundation has made. I was sitting in my house, not speaking to anyone for days. My life has changed for the better. I have a life again."
"I can now start living my life again and not be afraid to open my front door. Thank you so much."
"Thank you so much for going above and beyond for my child. Your help and support has helped make such a difference in her life in such a small amount of time. I am truly grateful."
National Citizen Service
You're young and you have huge potential. You have what it takes to succeed in new challenges, embrace new experiences and make your mark on the world. NCS is here to help you on your journey. If you're aged 15-17 and live in Salford or Trafford, come and prove what you're capable of achieving. Explore. Discover. Take action.
Find out more
CFO3 Achieve Programme
Salford Foundation is playing a key role in the CFO3 project as a sub-contractor of Achieve Northwest Connect.

We are working in seven prisons across Greater Manchester, Cheshire and Lancashire, namely HMP Manchester, HMP Styal, HMP Risley, HMP Hindley, HMP Kirkham, HMP Wymott and HMP Preston.
Find out more
We work with fantastic Partners
Why not get involved and help improve your community.